My littlest girl just turned two and will soon out grow her baby quilt (my very first quilt I made, I had no clue what I was doing!). So when I saw the new Aneela Hoey line Posy I needed to have it for her big girl quilt. She loves bunnies! For Valentines day my sweet husband told me I could buy some fabric so you can imagine what I bought. You got it Posy. I wanted to buy some yardage but shipping to Canada is a little outrageous so I bought four charm packs instead. I love the spring colors in this line.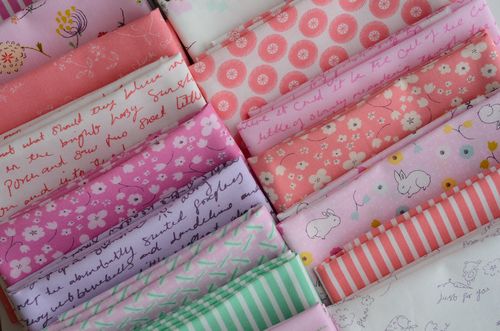 I am excited to make a quilt block pattern that has been on my list the Dutch pinwheel. I came across this scrappy version on a blog called MessyJesse and think that is will be perfect for Posy.
I have a few quilts above this one to make and finish but it has been added to the list and I am super excited about it!
On another note I noticed I am close to 100 posts. I am grateful for the handful of people who follow my blog. I know I am not very exciting but I sure like to share my projects!